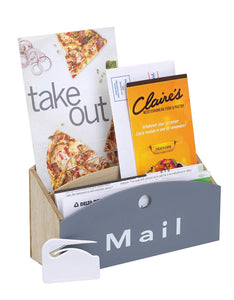 10 STREET HOME Modern Rustic Desktop Mail Organizer with Free Magnetic Letter Opener; Mail Sorter, Mail Holder and Letter Holder; 2-Tier Compact Design 9.5" (L) x 3.25" (W) x 5.75" (H)
The 10 Street Home wood mail organizer is designed to eliminate clutter in your home or office. This compact 2-tier letter holder, mail sorter and mail holder holds your mail, letters, flyers, take out menus, greeting cards, postcards and many other items. Its modern rustic design makes them fit into most homes and office.

It even comes with a FREE letter opener!

Great for use as:
- Mail Organizer
- Letter Organizer
- Mail Holder
- Mail Sorter
- Desktop Organizer
- Kitchen Counter Organizer
- Mail Tray
- Bill Holder


Package Includes:
- Mail Organizer
- Magnetic Letter Opener
- Product Guide

10 Street Home, founded in the Rosena Ranch Community in Fontana, California, is a manufacturer of modern, contemporary home furnishings. Our quality products become art pieces that provide utility and add personality to your home. Whether you live in a room, an apartment, a condominium, or a single-family house, we help turn any place into your home.
Product Features
ORGANIZE - Avoid clutter and neatly organize your mail, letters, envelopes, take out menus, greeting cards, and many more
DESKTOP MAIL ORGANIZER - Compact design that's perfect for home or office desks
KITCHEN COUNTER ORGANIZER - Add to your kitchen counter and sort your mail, letters, coupons, and more
INCLUDES A FREE LETTER OPENER - A Great Value!